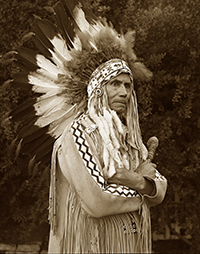 Photo Chief Red Eagle
Carmel, California
of the Choctaw Tribe
(1870-1949)
George J. Seideneck photo
circa 1940
CV # 72-040-0012
2x2 Film Negative
Native American
Red Eagle was born into the Choctaw tribe at Fort Worth, Texas on August 29,1870. his parents died when he was five years old. He was Adopted by Buffalo Bills and was part of his Wild West Show. He moved to California with the Splanes in the late 1920s and to Carmel in 1939 and lived at 7th and San Carlos in Carmel After many months of failing health he died at the age of 78 in a Salinas hospital on January 10, 1949. Carmel named a small street after him Red Eagle Alley that runs off Mission between Ocean and Seventh across from the Carmel Plaza.

Spanish colonization in the 1770's Native American tribes of California Ohlone (also known as Costanoan)
Isabel Meadows (1846-1939) of Carmel Valley her father,
James Meadows
he was born in Norfolk, England, in 1817, He was a professional whaler in March 1835, and deserted ship in Monterey in 1837 In 1842 he married her mother,
Loretta Onesimo, she was a Rumsen Ohlone. Ohlone (formerly Costanoan), Esselen, and Salinan.
Dat So La Lee was a celebrated Native American Washoe basket weaver.
Alessandro and Brotolo Onesimo, Mrs. Feliciano Soto and
Jose Bernabe
(El Sordo) (Spanish for "the deaf one") and William Gomez, Oct. 1928, Manual Onesimo, Panocha Onesimo of Carmel Mission.

William Benson (Pomo, Native American, 1862–1937) in a group of Indians at a Convention, Mount Hermon, Santa Cruz, Circa 1920
R. R. R. Holmes Heliographic Artist of San Luis Obispo we hold three of his 5x8 Wet Plate glass negatives of the Chumash Native Americans rock art of the Painted Rock at Cariso Plains,
circa 1876.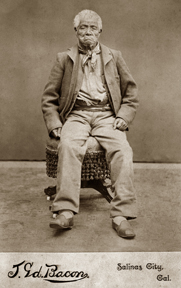 Old Gabriel
Photo by J. Ed Bacon
of Salinas
1889
Died March 16, 1890
In a Salinas hospital Monterey County California
beliver to been over 151 years old
CV # 91-042-0002
cabinet card