Early Bohemian Grove, Monte Rio,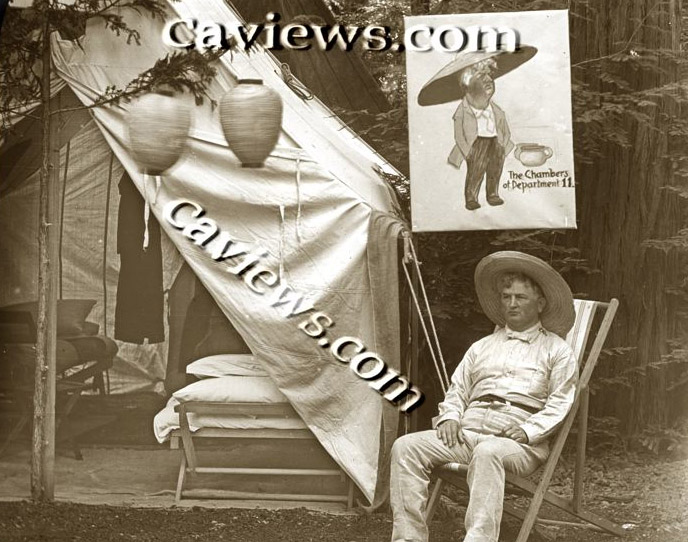 Man sitting next to a Bohemian tent August 1902
Photo Accession CV # 2011-033-00
Chambers of Department 11 --
Image No. 935
Sonoma County, CA
In 1893 the Bohemian Club bought 100 acres of unlogged forest land from the Sonoma Lumber Company at Rio Monte, two miles south of Guerneville on the Russian River.
It became the Bohemian Grove, is now a 2,700 acre Redwood forest,.
Early photos show tents and Greek-like temples set up in the deep forest grove.
Members of the Bohemian Club who took part in the festivities included successful artists, musicians and writers and wealthy businessmen, powerful politicians.

Ferdinand Burgdorff, Artist (1881-1975)
James Hopper (1876-1956)
Jack London (1876-1916)
Xavier Martinez, Artist (1869-1943)
George Sterling (1869-1926
Harry Leon Wilson (1867-1939)

Go to list of our California holdings by place

The Seacoast of Bohemia, Carmel
Santa Rosa, April 1906
Sonoma County photos
Fort Ross photos
Northern California Views
Holdings: Over 82,000 Photo
We have over 35,000 historical California images listed in our database and can provide a computer generated list by subject, place, date, photographer and format or any combination of the above for a small fee.