Photo Accession CV # 91-039-0001
4x5 Glass Plate Negative
Circa 1908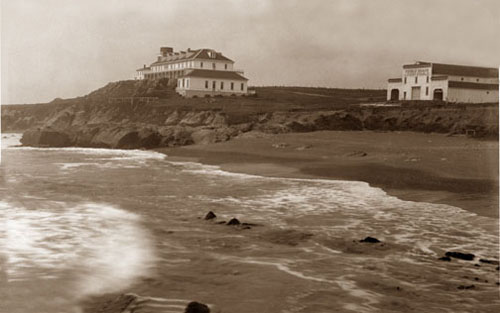 The other Pebble Beach, Loren Coburn Pebble Beach Hotel This view looking North on the San Mateo coast across Pebble Beach to the
Pebble Beach Hotel and livery stables built by Loren Coburn in the 1890's.
It was on the Coast Road now California Highway One.
North of Santa Cruz and near the Pigeon Point Lighthstation,
Bean Hollow Beach and just South the small town of Pescadero and about 18 miles South of Half Moon Bay.
The hotel burned down some time in the 1920's.
Photo Accession CV # 2004-072-0001
4x5 Glass Plate Negative
Circa 1885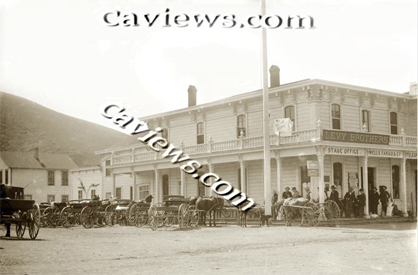 Levy Brothers store in Pescadero with Wells Fargo & Co., General Store, stage office.
In 1871 the Levy brothers Fernand and Joseph,
emigrants from Lorraine, France, arrived in the Bay Area.
Acquired the store
from John Garretson in 1883
Photo Accession CV # 2004-072-0007
4x5 Glass Plate Negative
Circa 1885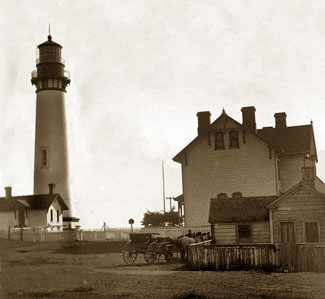 Pigeon Point Lighthstation
Pigeon Point Lighthstation was built in 1871 and it was first lit
at sunset on November 15, 1872.
In this photo you can see the fog signal building, built in 1902 and the old keepers quarters.
The 115 foot tall tower has a first order Fresnel lens in it.
On what was once called La Punta de la Ballena (Whale Point).
La Punta de la Ballena Whaling Station