Monterey's Sardines Fishing Industry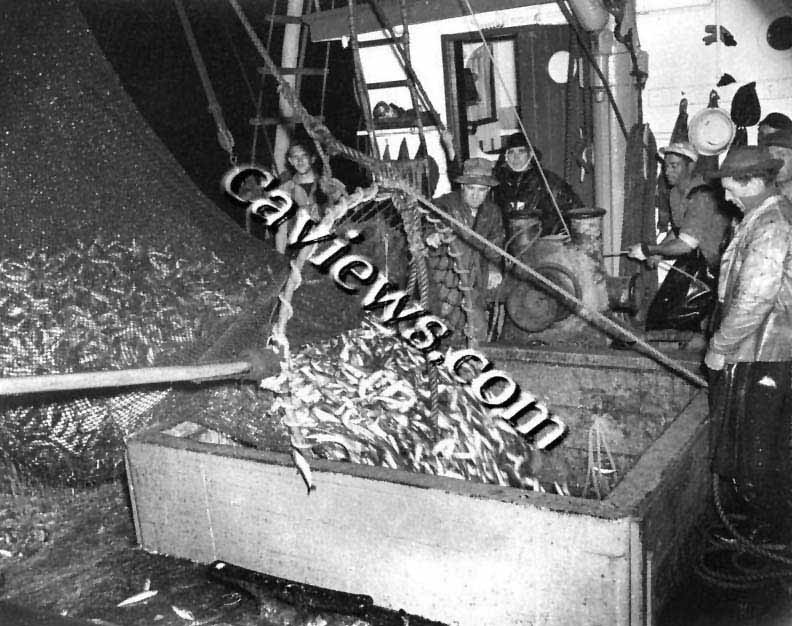 Purse seiner City of Monterey
Photo Accession CV # 81-021-0018
George Robinson Photo, 4x5 Film Neg, Circa 1948


Monterey Fishing Pictorial Collection
The happy crew of the purse seiner City of Monterey brailing sardines into the hold after a long nights of fishing.
She was built in 1937 by Anderson & Cristofani, San Francisco
Fishing boats with names like, A.A. Ferrante, Adventure, American Eagle, City of Monterey, California Bear, California Rose California Star, Cerrito Bros, C.R. Martinolich, E.S. Lucido, Diana, Dux, Geraldine-Ann, U.S. Liberator, Lina V, Lucky Boy, Mineo Bros, New Crivello, New Hope, New Marettimo, New Rex, New Roma, North Star, Star of Monterey, Pacific Star, Providenza, El Cerrito, Western Explorer, Western Flyer, Western Maid, and Vitina A, U. S. Liberator, Yankee Clipper
at one time fished in Monterey Bay. Just to name a few in our photo collection.


Early Monterey Fishing industry Gallery and photos of Cannery Row in it's hayday, and Cannery Row from the 1960 to today.
We also have photos ofSalmon fising in Monterey Bay.
Photos by Pat Hathaway of fishing in Monterey today.



And photos of other purse seiners from the Monterey fishing fleet.

Holdings: over 1000 photos of Monterey's Fishing Industry and Cannery Row from 1890-2012
Holdings: over 22,135 Photos of Monterey County listed in our database.
And over 81,900 historical California images in our photo archives.

A list of books, magazines and television programs that have used photos from the photo collection.