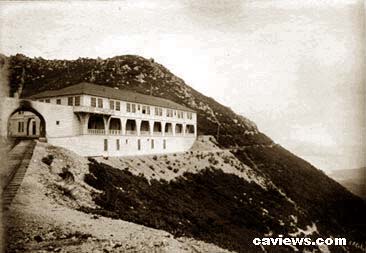 Photo Accession CV # 77-003-0064
Photo by E.A. Cohen # 1346
Taken on May 15, 1902
5"x7" glass plate negative
This view by E.A. Cohen of the Tavern of Tamalpais taken from along side the railroad tracks leading to the tavern. The Tavern was originally built in 1896 and burned in 1923.
Cohen spent a lot's of time on Mt. Tamalpais taking over 200 photos of Mount Tamalpais and over 455 photos of Marin County. He photographed the Mt. Tamalpais and Muir Woods Railway, gravity cars, Willow Camp now know as Stinson Beach, Bolinas, Mill Valley and other locals in Marin County.
We also have photos of the Blithdale Hotel that was near Mill Valley taken in the 1880's.

Holdings: Photos of Marin County over 530 images and over 2,022 photographs by E.A. Cohen and some early views by Frank Ransome of the Gravity cars and Shay No. 7 at the summit yard. Belvedere and Corinthian Island near Tiburon.
The Mill Valley station of the North Shore Railroad and early photos of the Dipsea Race in Mill Valley. For other Railroad photo from our archives.

California North Coast, Sonoma , Mendocino, Humboldt and Del Norte Counties.
Northern California , Sacramento, Mount Shasta, Mount Lassen, Stockton.

Holdings: For Marin County 539 images and over 81,900 historical California images in our photo archives.