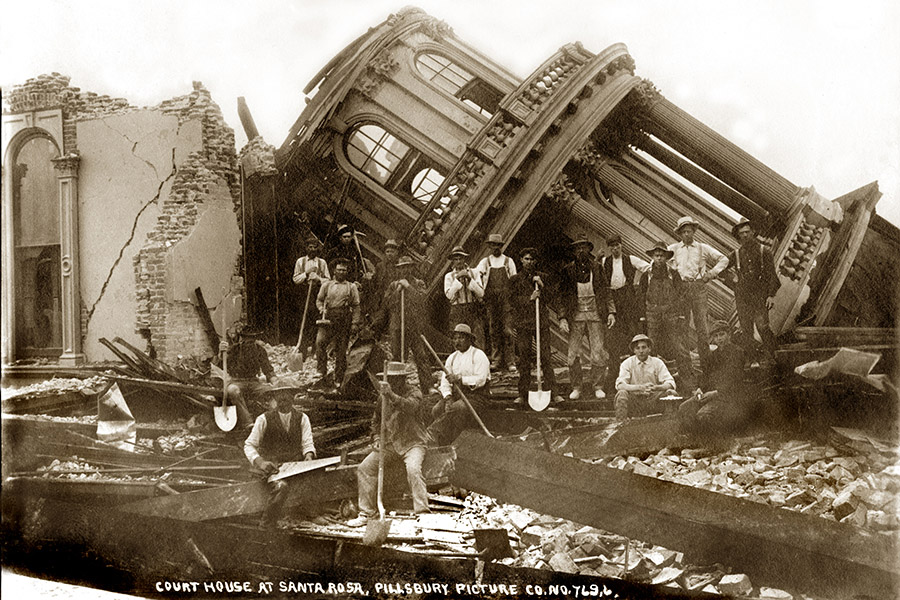 Holdings: Over 200 historical photos of Santa Rosa, Sonoma County California in our database.
Fort Ross, Jenner by the Sea, Monte Rio on the Russian River, Bohemian Grove,
Stewart Point and Walsh Landing Dog Hole Landing.

Holdings: We have over34,553 historical California images listed in our database and over 81,955 total in the photo collection.
Other photographers in the collection are Zan Stark, E.A. Cohen and A.C. Pillsbury and Fort Ross.

Ruins of the collapsed Sonoma County Court House at Santa Rosa
Notes: Workers with picks and shovels in midst of rubble.
Photo by the Pillsbury Picture Co.
No. 7696
Circa 1906

Photo Accession
CV # 2003-072-0006
Shaking in the Santa Rosa area was actually stronger than that felt in San Francisco.