Photo Accession CV #84-107-0007
Photo by Pat Hathaway Copyright©1984
October 20, 1984
35mm Black & White negative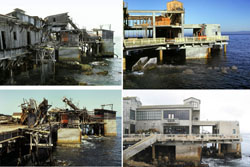 Opening day of the Monterey Bay Aquarium on Cannery Row on the site of the old Hovden Cannery.
The Monterey Bay Aquarium is probably the most historically important event to have happened in the Monterey Bay and its environs in the last twenty years.

Mr. Hathaway was one of only a few photographers allowed to go on site during the construction of the aquarium and has a complete collection documenting the construction of the aquarium from start to finish.
If you would like to see other photos by Pat Hathaway.
We also have photo of the Monterey early fishing and sardine Fishing Industry and Cannery Row 1990-1972



We have over 500 views of the Monterey Bay Aquarium in the photo collection.
Photos of Cannery Row from the 1960 to today.
Cannery Row History wall photo display of over 20 24x36, 30x40 and 40x60 historical prints of Cannery Row.
In the American Tin Cannery at 125 Ocean View Boulevard, Pacific Grove.
Then and Now by Pat Hathaway & A.C. Heidrick Photos.

Holdings: over 28,000 Photos of Monterey County listed in our database.

Total number of images, in our database is over 35,000 total
Gone but not forgotten photos of our lost history.