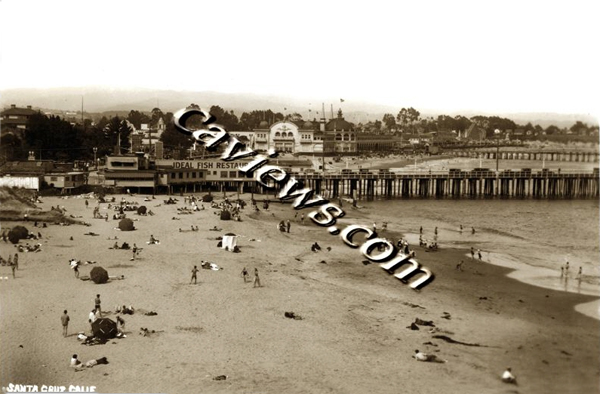 Photo Accession CV # 98-062-0013 3x5 real photo postcard
by an unknown photographer Circa 1930
Holdings: over 764 photos of Santa Cruz County in the photo collection.
Including works by Charles Leon Aydelotte, E. B. Andrews, A. W. Bell, Geo. Webb, Martin A. Reese, Ravnos, Ole, Mr. & Mrs. Morris, Bert Tuttle and others Santa Cruz early photographers and California Beach Scenes, passenger liners and Steam Schooners and California Industry.
Santa Cruz, Beach, Wharf and Casino
Santa Cruz pictorial collection
Shows the Santa Cruz Beach and wharf looking towards the Casino.
Note the Ideal Fish Restaurant at the start of the Santa Cruz wharf.
We have over 353 images of Santa Cruz in the photo collection. Including Santa Cruz in 1866, the Santa Cruz Railroad Co. Steam locomotive Jupiter in 1877 by William N. Tuttle, the Santa Cruz Lighthouse, Circa 1890, Holy Cross Church, Circa 1885 and many other early views of Santa Cruz.
We also have views of Watsonville, Capitola, beach scenes, Glenwood Magnetic Springs, Big Basin State Park and the Santa Cruz Mountains.