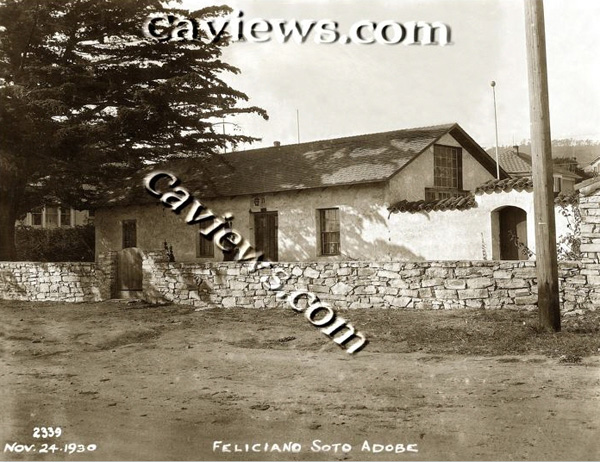 Photo Accession CV # 73-001-0017
By Louis S. Slevin # 2339
November 24, 1930
5" x 7" Original print
Holdings: over 456 photos by L. S. Slevin in the photo collection and over 5,000 photos of Monterey.
Holdings: over 28,000 photos of Monterey County listed in our database and over 81,955 total in the collection.
Feliciano Soto Adobe, Historic Monterey

The Lara-Soto Adobe at 460 Pierce Street was built about 1843 by Francisco Soberanes and sold to Jesus Soto.
In the 1890's Manuel and his Native Americans wife Felicidad Soto lived in the adobe.
We also have photographs of all the important Monterey adobes from the 1880's to today.
In the late 1920's J. C. Anthony, a local contractor, remodeled the old adobe he added the Chalk Rock wall you see in this photo.
John and Gwyn Steinbeck purchased the adobe in October of 1944 from Miss. Josephine Blanch (1864-1951), an early Artists and she was also the curator for the art gallery at the Hotel Del Monte.
The Steinbecks sold the property in 1946 to a Dr. Harry R. Lusignan. The adobe is now used as offices by the Monterey Institute of International Studies.


We have a large selection of historical photographs of Monterey in stock at all times.
Monterey area photographers that made postcards

Monterey 19th Century Historic photos.
Monterey 20th Century Historic photos.