Monterey Bay Whaling history
Monterey Bay Whaling history goes back to the 1850's
When Yankee whaler Captain John P. Davenport of Tiverton, Rhode Island, establishes Monterey's first shore-whaling company in 1851 by 1867 he had moved on to Soquel.
Modern Shore Whaling 1919 -1926 at Moss Landing
On January 22, 1919, the catch boat Hercules towed in its first catch, a sperm whale to the try-works.

We have photos of the Del Monte Fishing Co. and the catch boat Allen Cody, taken on July 5, 1967 by Mr. Hathaway.
In 1971 the Del Monte fishing company on Point San Pablo was the last whaling station to close at Richmond, California. Ending over a 120 years of shore whaling on the California coast.

Holdings: Monterey Whaling Station, Flensing and trying out a Humpback whale on a Monterey beach, Circa 1896.
Carmel Bay Station at Whales Cove Point Lobos, circa 1861-1885
California Sea Products Company at Moss Landing station, the first whale taken and the catch boat Hercules with harpoon gun.
Portuguese shore whaling station at Pigeon Point, Circa 1887
Flensing a Gray whale at San Simeon Station, circa 1888
California Sea Products Company Trinidad Whaling station, in Humboldt County Circa 1923.
Eureka Whaling station, in Humboldt County, Circa 1953



For more information please see Charles M. Scammon book
The Marine Mammals of the Northwestern Coast of North America.
The Portuguese Shore Whalers of California, 1850-1954, by David Bertao , December 2006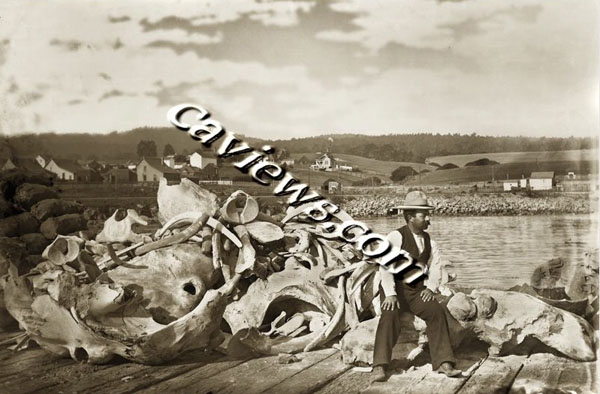 Michael Noon sitting on a pile of whale bone at Monterey's Wharf looking back towards the Whaling Station on Deactor St.


Monterey, Cal. Joseph Kurtz Oliver (1863-1943), photo Circa 1896
Photo Accession CV # 85-020-0002



Holdings: over 22,135 Photos of Monterey County listed in our database.
And over 81,900 historical California images in our photo archives.



Today whales are hunted with cameras year around on Monterey Bay.
We Recommend Monterey Bay Whale Watch if you wont to see whales in Monterey Bay.