Polo at Del Monte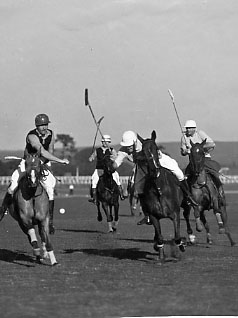 Aiden Roark leads with a back swing as
Cecil Smith attempts a forward drive.
Polo field at Hotel Del Monte
Circa 1934
Photo accession CV # 1999-061-0002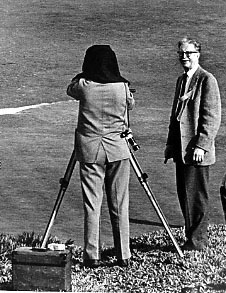 J. P. Graham and Peter Breinig at the tripod,
Photo by Rey J. Ruppel, Circa 1955
Photo accession CV # 1991-070-0002

Spike as he was better known, was a Del Monte / Pebble Beach photographer from 1924 till his death on November 14, 1963.
Julian was born in Washington, D.C. on March 13, 1886.
He had a studio at the old Del Monte Hotel from 1924 to 1944 when he moved his studio to the Lodge at Pebble Beach.
Graham followed in the foot steps of C.W.J. Johnson (1880-1903) and R. J. Arnold (1856-1929) as Del Monte photographers.
Grahm also worked with A.C. Heidrick and Rey J. Ruppel and Peter Breinig.
Graham and his wife Gwenn were the press team for Del Monte, he took the photos and she put the words to them.
Bing Crosby's golf tournament from the first in 1947 - 1961. photos by Rey J. Ruppel.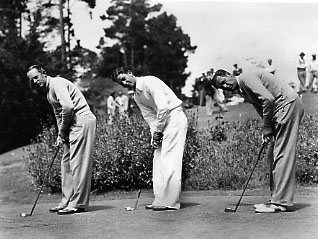 Three former California State golf champions; left to right,
Captain A. Bullock, Webster of Midwick
Neil White of Los Angeles
Jack Neville of Del Monte
Circa 1934
JBG #B 3966
Photo accession
CV # 1999-061-0018



Julian P. Graham home page
Holdings: 188 photos by Julian P. Graham in the Photo Archives.
Holdings: over 28,000 Photos of Monterey County listed in our database.
The bulk of the J. P. Graham collection is at the Bancroft Library, U. C. Berkely.
Old Del Monte Golf Course.

Early Northern California and Southern California Photographers
and Monterey area photographers that made postcards

This page was last updated on October 1, 2019
Copyright©2019 California Views Historical Photo Collection
Dedicated to the preservation of our California photographic heritage